On 26 October, the Latam Airlines Airbus operated flight LA1325 left Santiago, Chile for Asuncion, Paraguay.
However, this usually standard flight was not plane sailing as it struggled to make its way through a turbulent storm.
The flight, which had 48 passengers on board, was initially unable to land at the Silvio Pettirossi International Airport, so was directed to Foz do Iguacu, Brazil.
After over three hours of waiting in Brazil, the flight took off once again for Asuncion.
During the approach to landing, the aircraft flew through a storm, causing significant damage and an emergency landing was declared.
The plane landed with one of its engines broken, the nose cone totally destroyed, and the windshield also wiped out.
Luckily though, all passengers and crew got off the aircraft safely with no injuries reported.
Photos and videos of the battered aircraft have appeared on social media, with Twitter user @AIertaMundiaI sharing some of these.
Multiple pictures posted to the account show the damage done to the nosecone, which is basically non-existent.
One picture also shows the view from the cockpit, with the pilot and co-pilot's view certainly limited as a result of the damage.
Other pictures show the extreme damage done to the underside of the plane and relieved passengers heading on the ground following a terrible ordeal for them.
Passenger on the Latam flight, Pabla Thomen, said: "I was with my daughter, alone. The pilot tells us to prepare for a forced landing. My seatbelt came undone, I called for help. I'm having panic attacks. I said goodbye to my daughter telling her that I loved her."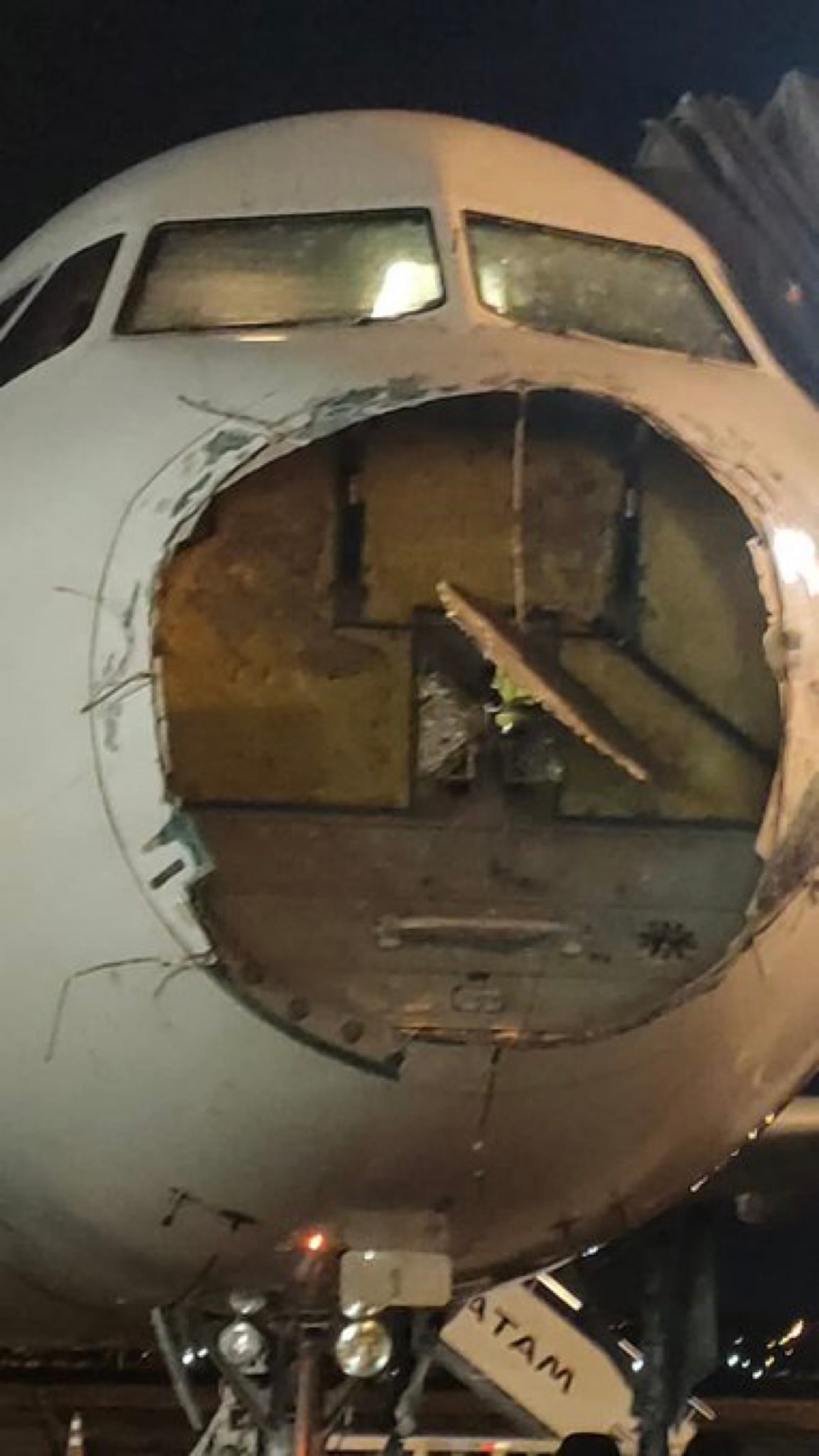 Latam Airlines issued a statement shortly after the incident confirming it had taken place and apologized for the "inconvenience that this weather situation may have caused passengers".
It read: "The aircraft made an emergency landing in Asunción, a procedure that was carried out without problems at 23:09 (local time). Both passengers and crew are in good condition."
The General Directorate of Civil Aeronautics of Chile (DGAC) also acknowledged the incident, with an investigation taking place.